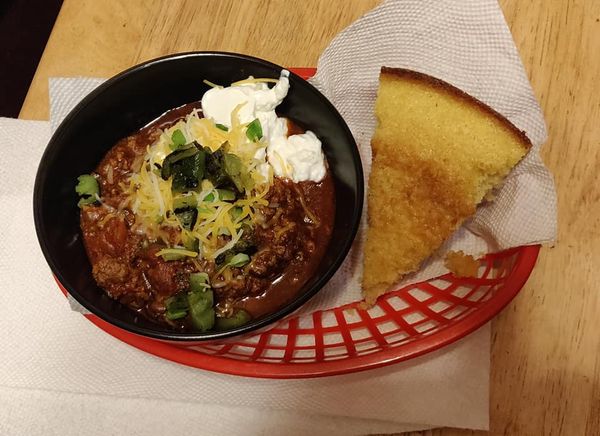 Ingredients
1 Cup of Corn Meal
1 Cup of AP Flour
2/3 Cup of Sugar
1 Cup of Milk
1/3 Cup of Oil
1 Egg
1 Tablespoon Baking Powder
1 Tsp Salt
1 Tablespoon Melted Butter (For the Batter)
1 Tablespoon of Butter (To Grease the Pan)
1 Tablespoon of Butter (To Melt over baked cornbread)
Directions
Preheat your Oven to 400 Degrees F.
Grease your skillet or pan with butter to ensure the cornbread will not stick.
In a bowl, mix the egg, milk, vegetable oil, and melted butter until combined.
Slowly mix in the flour, Corn Meal, Salt and Baking Powder.
Pour the batter into the prepared skillet or baking pan. Bake for 20 minutes.
As soon as the skillet or pan is removed from the oven,
spoon over the last tablespoon of melted butter.
> Serve and Enjoy with Mr. Marty's Famous Chili !